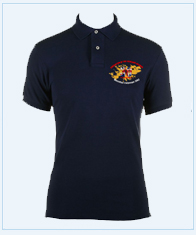 Personalise your Shirt - You can also have your Ship, Unit, Regiment or Squadron embroidered onto the shirt beneath the white lettering. This is a personal touch to your shirt however an additional charge of £4.95 per shirt is require. If you wish to have extra lettering on the shirt please use the additional embroider option indicating what you would like to be added to your shirt. Please ensure correct spelling as we reproduce exactly what is entered into the text field.

Please allow 21days for despatch of personalised shirts.

Please note that final shades of colour of the shirts may vary slightly from those shown as this is dependant on the manufacturer.
Introducing the new Falkland Islands 30th Anniversary Polo Shirt
This shirt has been designed by us here at HQ1 and it is unique and copyrighted to us. The shirt comes in 5 colours and in sizes Large, Xlarge, XXLarge, (we are able to provide extra sizes on request) The design is embroidered onto the shirt on the left breast area. A donation from the sale of these shirts will be given to charitable causes that are linked to the conflict and the armed forces. By buying a shirt you can be satisfied that you are helping both veterans and serving members of the armed forces. Available NOW!* See Enlarged crest here
We are launching these in the following colour schemes;
Navy Blue - Royal Navy and Merchant Navy Personnel
Green - Royal Marines and Army Personnel
Burgundy - Parachute Regiment Personnel
Black - Special Operations and Naval Party Personnel
Royal Blue - Royal Air Force Personnel

Please allow up to 21days for delivery on this item